A BOOK ABOUT WHEN COMPLICATED BECOMES COMPLEX.
The entire world is made up of parts that act upon each other. These parts may have clear boundaries, or their boundaries may be fuzzy. Anything that is pieced together with two or more interacting parts is a system. In practice, that means everything is a system because interacting pieces and parts form everything. As the number of parts and their visible (and hidden) interactions increase, systems grow complex, and the rules you're used to no longer apply. System Wisdom is a book about how the rules of the game change as you cross the boundary from complicated to complex.
WHY WE KEEP F***ING THINGS UP.
System Wisdom is a collection of 17 essays split into four main parts. In the first part you'll learn some key concepts about different kinds of systems and their importance to our lives. Next you'll learn how complexity thwarts our human desire to control the people and things around us. In the penultimate section you'll learn the common mistakes that lead us to make poor decisions in complex situations. Finally, you'll learn strategies to avoid negative outcomes when faced with complexity.
READ THE FIRST PART. FREE.
Still not sure what System Wisdom is about? Better read it for yourself! You can download the first part of System Wisdom and read it for free. You don't even need to give your e-mail address. Just download it below and enjoy.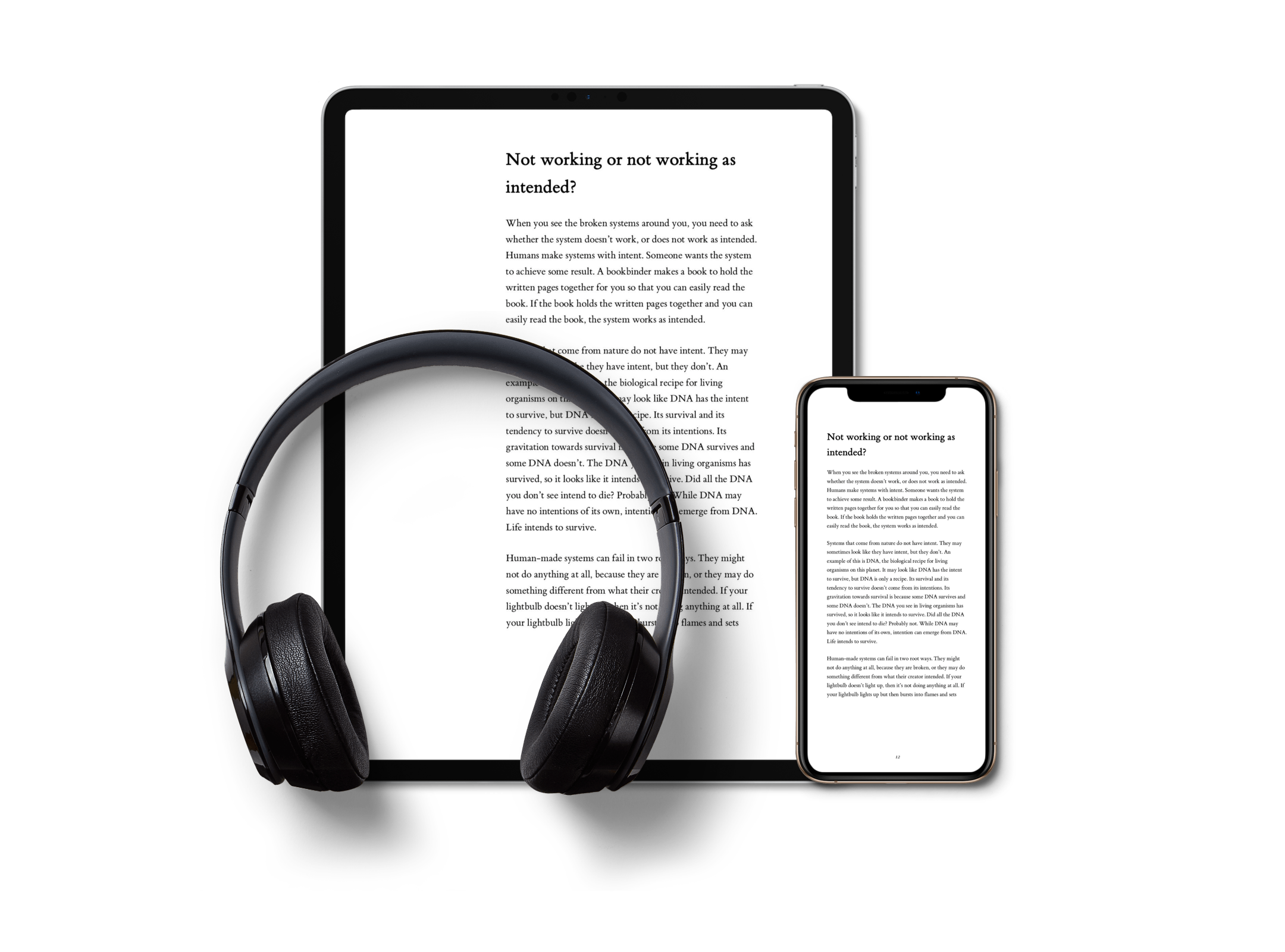 Listen to the two hour audiobook while you do chores, commute to work, or relax by the beach. Or, read the beautifully laid out PDF on your computer, tablet, smartphone, or e-reader that supports PDF.
Read the beautifully laid out PDF on your computer, tablet, smartphone, or e-reader that supports PDF.
A GREAT GIFT FOR PROBLEM-SOLVERS.
We all know someone who has to solve problems and fix broken things. System Wisdom can help them approach their work with a little more wisdom and nuance. Buy one for yourself and you'll get a $10 discount for additional copies.